Lilofee was born in 1962 in Münster, Westphalia (Germany). She grew up in a family linked to music. Among the songs that were performed were Christmas carols from the Advent season sung or played with instruments. At that time his older brother often lent her his Framus western acoustic guitar and a diatonic accordion. From the late 70's to the early 80's, she played the guitar and sang in a local group of folk-rock music, until she started to study Anthropology.
Between 1989 and 1990 she traveled to Spain to undertake her field research in cultural anthropology in Extremadura. In these circumstances she returns to music, interviewing and recording popular musicians. Later she settled permanently in Spain (Madrid) to live and work as a freelance anthropologist in this country, firstly between Extremadura and Madrid. In 1997 she moved to Bizkaia (Vizcaya). There, in 2001 and in the framework of a commissioned study in the Mining Zone of the Left Bank, she finds popular singers that she has to interview. In 2004, she met the French ethnomusicologist Raphaël Parejo-Coudert in this same research framework. The book itself is downloadable here.
Since then, they have been working together on various research and diffusion projects, especially the musical heritage (using professional quality audio and video recordings).
They create the European association Txoke! (2007) dedicated to research and disffusion of cultural heritage. In 2010 they organize an international congress on intangible cultural heritage in Bilbao in which music is also present.
As of 2013, Lilofee takes up music with the intention of giving professional concerts. She is co-founder of an informal platform "Möbius Sounds Project" in which vocal and instrumental experiences are carried out, fusing musical styles and traditions from various cultures. This experience allows her to make contact with new musical cultures and genres. First performances take place in Getxo in the neighborhoods of Algorta and Las Arenas (Bizkaia, Basque Autonomous Community), then in a music lounge in the same city and in the town of Sopelana.
In 2014 Lilofee gives three concerts in the framework of the German "Oktoberfest" (beer festival), two in Bilbao and one in the Biscayan village of Areatza, accompanied by Raphaël Parejo (multi-instrumentalist musician). With him she founded at the same time the duo "Sweet Winds" that presents a repertoire of international songs and ballads. In March 2017 "Sweet Winds" sings the night of the "Saint Patrick" in Berango. Sometimes she takes part of jam sessions such as the Irish Folk Sessions ath the Pub Residence (Bilbao). Since 2017 she participates regularly at the local initiative of popular singing at Berango, the " Berango Kantari".
She founded with Raphaël Parejo and two other musicians the musicians association "Musixpand" in which Lilofee is a secretary. Through the association, formations and diffusion events are organized. She becomes a musical agent in order to make perform musicians from all over Europe.
After these first experiences the idea of ​​creating an original repertoire of songs and ballads of the Germanic cultures was born. For four years, taking advantage of her knowledge as a researcher in anthropology, she investigates the subject with the help of Raphaël Parejo-Coudert. The two rehearse, Raphaël arranges and harmonizes the selected themes, many of them very few known even in Germany.
During 2016 and 2017, the programs in Lilofee solo as a singer and instrumentalist (guitar, frame drum and other instruments) are outlined, and only in November 2017, part of the repertoire at the Ein Prosit Bilbao German restaurant releases under the title " Songs and ballads of the Germanic cultures ".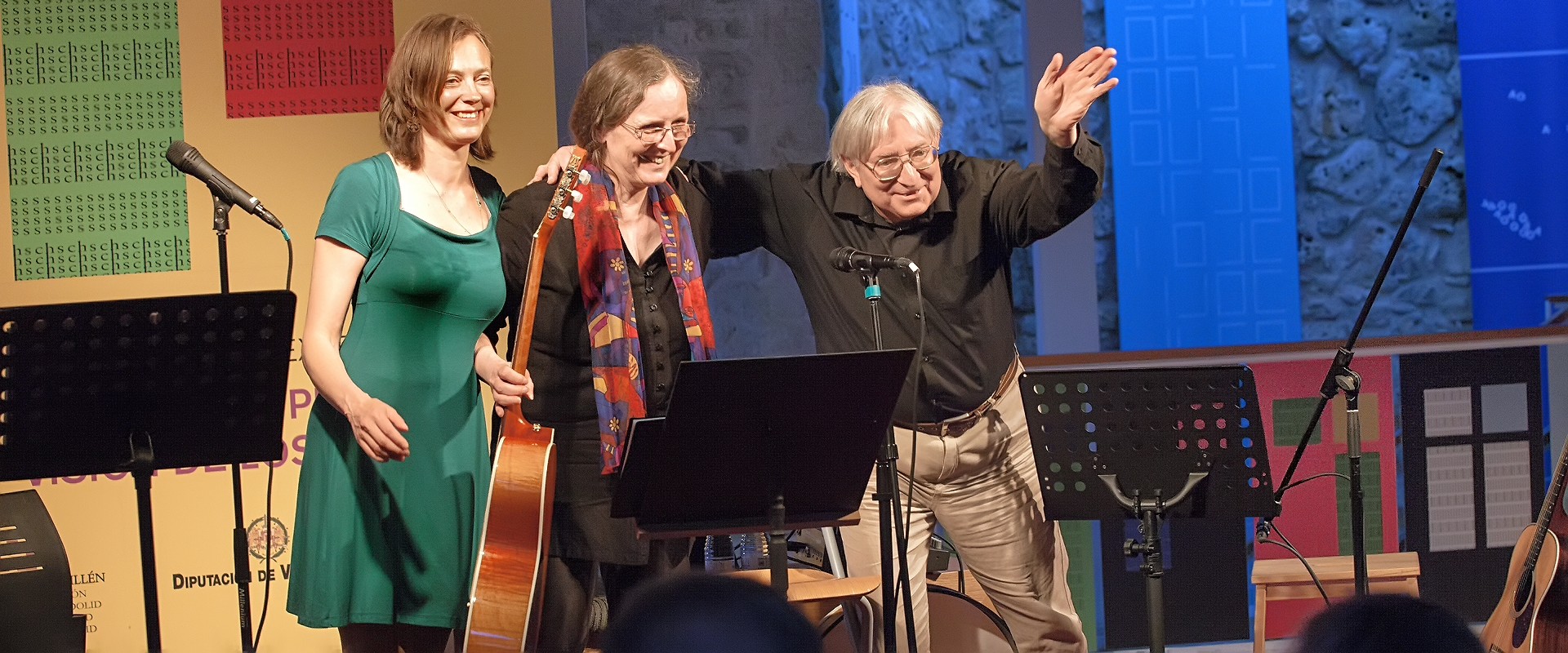 On June 2, 2018, she premiered his recital of German songs and poems "Love, vice, death" with Anke Schulz (declamation of poems) at the Urueña e-LEA center (Villa del Libro, Valladolid, Castilla y León, Spain) and Raphaël Parejo (musical arrangements and accompaniment on guitars), a show that gets a resounding success.
In june and july 2018 also took place further concerts of "Sweet Winds" with Raphaël Parejo and their international repertoire, during their tour around France (departement Drôme) and in Spain, at Laredo (Cantabria).
More to follow…